Public Notice – Perth Crematorium Tree Felling
Perth and Kinross Council would like to advise that following on from the £2.9 million works on Perth Crematorium, essential tree felling work will be taking place in specific areas within the Crematorium's grounds between Friday 16 and Sunday 25 March 2018.
The works will cover groups of larch and douglas fir at the edge of the Crematorium grounds and in the area surrounding the site's overspill car park. The trees being removed have been affected by windthrow (where a tree is blown over at its roots) due partly to their position becoming more exposed on site, and partly as a result of recent storms (notably Storm Eleanor) and high winds that have affected the local area.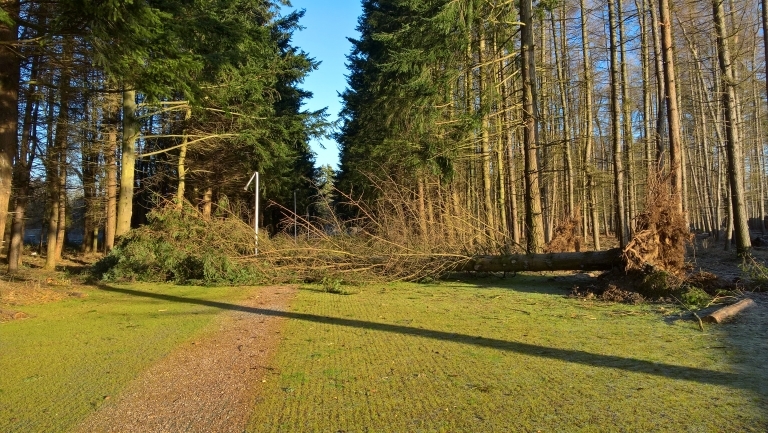 A number of individual tress have previously been removed, however the larger-scale felling has since become necessary in the interests of public safety. This had previously been identificed as a potential risk.
The works will be undertaken as follows:
Friday 16 March 7am to 7pm, Saturday 17 and Sunday 18 March, 8am to 7pm – felling of trees and chopping of branches using a harvester, along with some hauling of tree trunks.
Monday 19 to Friday 23 March, 9am to 5pm – hauling of tree trunks for removal, via the overspill car park exit, and some removal of tree stumps and roots.
Saturday 24 and Sunday 25 March, 8am to 6pm – removal of tree roots for mulching.
It is anticipated that the weekend working will be completed prior to the above finish times.
In the interests of neighbouring residents and visitors to the Crematorium, every effort will be made to keep noise and ground disturbance to a minimum, with any soil disturbed during the works carefully retained and re-spread on site. Hoarding has also been erected so that the works are not visible to visitors to the Crematorium or the Gardens of Remembrance. Works will also be planned around booked services.
Environment and Infrastructure Convener, Councillor Angus Forbes, said: "Alongside the works to improve Perth Crematorium, the project to create a new A9/A85 junction has required the removal of some existing woodland. Windthrow was identified from the outset as a risk in this respect, and we have looked to mitigate this as far as possible through selective thinning of he tree covering. However, with instances such as a street light having been brought down by a falling tree, we have to take action now to ensure public safety can be maintained and Crematorium staff and visitors are not put at risk.
There has been a significant investment into both Perth Crematorium and the new A9/A85 road junction. The urgent and necessary removal of these provides an excellent opportunity to extend the formal grounds and create a larger, well-designed new landscaped car park with additional parking spaces. The redesign will use a combination of trees, shrub, bulb planting and lawns to help create a new sheltered attractive space for memorials. The new surfaced car park will be sensitively designed to fit into the grounds and be linked to the rest of the gardens with surfaced paths and seating.
This will be of huge benefit to people attending services at the Crematorium and visiting the Gardens of Remembrance. I am looking forward to seeing the plans that the landscape designers come up with to enhance this area."