Cross Tay Link Road – Progress Report, 13 June – 24 June
Key highlights from this period
General
All bat activity surveys completed; license application for Destruction of Roost at Broxy Kennels submitted
Works commenced on A93 plant crossing and forming material storage areas.
Brash removal at A93 commenced & well advanced at the end of the period.
SEPA visited the site 23 June. No findings. They will be a fairly regular visitors to the project
Scottish Water visited site 21 June -06-22 to inspect protection of water courses from oil spills, satisfied with measures in place. They will visit site every 4-6 weeks
Planning complete for plant crossings at A93 and Stormontfield Road.
Site Compounds at A9 and A93 now operational. Work started on the main site office at Stormontfield on 16 May.
Earthworks:
Settlement monitoring equipment installation on A9 complete; continuing on Link Road section.
A9 – Cut from Bertha Wood to fill for Western Roundabout progressing well.
Link road: Topsoil strip progressing at Stormontfield behind caravan park @ Racecourse. Capping progressed westward from A93. Capping also progressed eastward from A93 towards Highfield cutting
Western roundabout filled to stage 1 settlement level.
Starter trenches complete Eastern roundabout
Fill commenced at access area at pond
Topsoil strip commenced to North side of Archaeology area
Temporary haul road formed past hillfort
Drainage
Broxy Culvert; 37.5linm of available 87.5 ;linm 1.5m dia. Culvert laid.
Temporary drainage works across section.
Stormontfield Compound pad finished and ready for strip foundations.
Archaeological
Works are progressing at Broxy Hillfort. The works are becoming more complex with additional identified work around the discovery of a 'Palisade' or defensive wall. Overall work is now approximately 55% complete. Uncovering of a Souterrain or underground chamber continues.
Excavations on additional works focused on Ditch 4 north and Ditch 4 south of the entranceway (to the hillfort). Internal features were also excavated, including those adjacent to the south and entranceway. Additional works to Ditch 4 have been identified & PMI will be issued in due course.
Ground clearance
Highfield cutting area clearance 95% complete. Materials moved to laydown for mulching.
Pre-earthworks drainage ditches completed where possible site-wide. Approx 90% of ditches installed. Lagoons to be formed locally to support run-off.
Additional plant mobilised to commence topsoil strip and bulk earthworks.
Health and Safety
Nothing to report
Good News
A final Archaeology Open Day has been planned for July 30
Picture Update
Earthworks and Culvert Installation, A9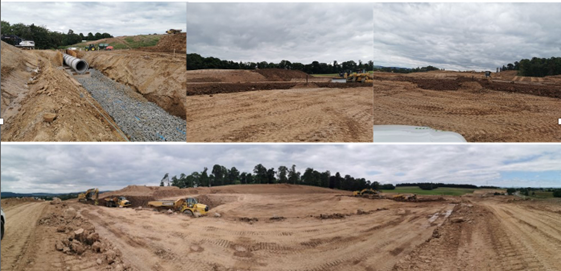 A9 section showing position of the bridge